A weekend of millinery workshops with Jenny Pfanenstiel of Formé Millinery! Please note the following:
All workshops require a minimum of 4 people registered by September 13th to run.
All workshops will have a maximum of 8 people.
Register for all five workshops and save $150!
Refunds will only be offered if a workshop is cancelled.
REGISTER HERE: http://www.brownpapertickets.com/event/406201

Making a Royal Wedding Fascinator
2 day workshop
Friday, September 20th, 10:00am-12:00pm
Saturday, September 21st, 10:00am-1:00pm
$275.00 per person
Have you ever wondered how to make the hats that you see Kate Middleton or Lady Gaga wear?  In this two-day course, we will take sinamay and block it on "disk" blocks that sit atop your head.  We will then embellish them and finish with elastic or headbands.  One size fits all. Materials are included (sinamay, wire, elastic, headbands). Bring basic sewing supplies (scissors, thread, needle, pins) and glasses for close up work if needed. Also bring any embellishments you may have (broaches, feathers, flowers) to incorporate into your hat. No millinery experience required.

Free Form Wool
1 day workshop
Friday, September 20th, 1:00pm-5:00pm
$195.00 per person
Does your style take on a more abstract look and feel?  This course takes hat making to the next level without using hat blocks. You will learn how to take straw/wool and by using a head form as a base, you will twist, turn, fold, and manipulate the material to create a beautiful abstract hat piece.  We will then finish the hat with wiring (if needed) and create a base (if needed) for your hat to sit on.  All materials are included.  Attendees need to bring a styrofoam head (or canvas wig head), water bottle, sewing kit and any embellishments. No millinery experience required.

Straw Braid Oh My!
1 day workshop
Saturday, September 21st, 2:00pm-7:00pm
$195.00 per person
In this workshop, you will get your creative juices going by making your own straw braid!  Straw braid bases for hats do not need to be boring and basic just because it sits underneath your embellishments.  Think color and texture.  Your base should be a part of your hat and we are going to do just that!  We will start with many different types of straw, yarn, and miscellaneous materials to braid into our straw braid.  Then we will take our straw braid and hand sew it into many different types of bases.  Once completed, we will finish the hat with an assortment of embellishments.  Attendees need to bring a sewing kit, styrofoam head (or canvas wig head) and embellishments.  Straw braid kits will be provided. No millinery experience required.

Carving Your Own Hat Block
1 day workshop
Sunday, September 22nd, 10:00am-4:00pm
$165.00 per person
Does buying $300 hat blocks break your bank?  Or are you looking for that special hat block that doesn't exist?  Why not make your own! Each person will sketch a hat that they would like to make and/or bring pictures from magazines of hats.  From that sketch, each person will sculpt a block out of styrofoam to resemble the shape.  We will start with carving the basic shape with a knife and finish by using sandpaper to smooth down the edges to resemble blocks in the industry.  This is a great class to create that hat form you have always envisioned in your head but cannot find as a block.  Each person will need to bring a hot glue gun, glue sticks and a straight edge knife for carving.  I will supply the block making material and sand paper.

"Block"ing Party
1 day workshop
Sunday, September 22nd, 5:00pm-8:00pm
$160.00
Let's have a "block"ing party!!  Have you ever just wanted to have access to many different blocks and just BLOCK and then finish them at home?  Now is your chance.  Come mingle, have some wine and hors d'oeuvres and block away. 2 wool hoods or 2 wool capelines will be provided, all of the hat blocks galore and refreshments! Additional hoods and capelines will be available for purchase. You must know how to finish a hat on your own.

About Formé Millinery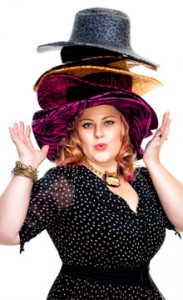 Jenny Pfanenstiel, International Award Winning Couture Milliner and Owner of Formé Millinery, makes handmade hats for women, gentlemen and children.  Her one-of-a-kind hats are created using age old techniques of steaming and blocking over hat blocks as a true Couture Milliner once did.  In addition to using age old techniques, Jenny has mastered the art of hand manipulation of traditional and nontraditional millinery materials creating "sculptures" for the head.  Jenny is a Milliner that creates hats for the modern person with an old soul.
As a Milliner, she has become known for her dedication to quality and taking once admired materials from the country roads in France, to the outback in Australia and incorporating these pieces to truly make one-of-a-kind pieces.  "As a Couture Milliner, my goal is to make a person feel sensational in my hats.  I want them to look into the mirror and feel transformed, almost as if they are one with the creation of the hat."
You can find her collections in specialty boutiques around the world and in magazines such as Vogue, Tatler, Country Living, Vigore and Belle Armoire.  Her hats have been featured on The Oprah Show and are owned by First Lady Michelle Obama.  Jenny is a repeat guest and shows her hat collections often at The Drake Hotel, Woman's Athletic Club and Service Club of Chicago events.  She is also a featured Milliner for the Derby showcasing her hats at Keeneland, The Kentucky Derby Museum, Galt House, Les Filles, Equus Run Vineyards and many Kentucky TV stations and magazines.
Millinery is a craft that Jenny wants to keep alive.  She teaches Couture Millinery instruction around the world in group and private workshops, including basic blocking on antique hat blocks, to sculptural hats using Jinsin.
Jenny is on the Board of Directors for the Apparel Industry Board and Fashion Group International, a member of the Milliners Guild in NY, member of the Headwear Association, a 2012 FGI Rising Star Winner, and a two time Winner of the Hatty Award (an International award given to Milliners).