Memorial Day weekend is a great time to head to the Delaware shore for wildlife photography. Migrating shorebirds stop here to plump up on horseshoe crab eggs and other delicacies before continuing their journey north. I had never seen a live horseshoe crab "in the wild," so my partner and I headed east in late May to check out this spectacle of nature.
Primetime for horseshoe crab spawning is late May and early June, coinciding with the evening high tide during the full or new moon (highest of the high tide). This year the full moon happened to fall on Saturday, May 25th on Memorial Day weekend so it was a perfect time to go. The Delaware Bay is actually the world's largest spawning ground for horseshoe crabs. They are considered living fossils and have been around since before the dinosaurs!
We stayed in Milford, DE because it was the closest town to Slaughter Beach, DE, known for its spawning horseshoe crabs.  Our B&B, the Towers, is about 250 years old and believed to have been originally devoted to millinery as a place to learn the trade!! What a funny coincidence. It is also on the National Register of Historic Places. It was a perfect place to stay as we zipped up and down the coast.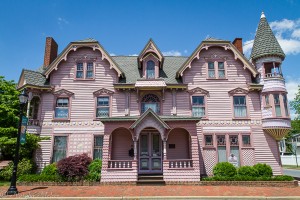 Over the course of the weekend, we hit virtually every beach and wildlife refuge in a 40 mile stretch between Prime Hook National Wildlife Refuge (~20 miles north of Rehoboth Beach, DE) and Bombay Hook National Wildlife Refuge (east of Dover, DE). Here are some of the places we visited.
Prime Hook National Wildlife Refuge
We mostly stayed in the northern part of Prime Hook National Wildlife Refuge along Prime Hook Road. This road cuts right through a marshy area that was filled with birds. We saw snowy egrets, black skimmers, great blue herons, ospreys, turkey buzzards, and many small birds we couldn't identify. We ended up here two mornings because of the large variety of birds that you could photograph right from the road.
Slaughter Beach
Slaughter Beach was our prime destination for seeing the horseshoe crabs. We went in the afternoon to scout it out and the beach was littered with them. It was low tide at the time so they weren't coming out of the water. They were on the beach either already buried in the sand or had gotten flipped over and couldn't right themselves. They have tails for this very purpose (flipping over) but apparently they can't really do that on the beach. If they get left ashore flipped upside down after high tide, they end up drying out from the exposure to sun and air and dying. After millions of years on this earth, I would have thought they would have figured that one out! We also saw two horseshoe crabs that were tagged by the Fish and Wildlife Service so we called in the location and date. One crab was tagged a year ago 40 miles south near Ocean City. The other (female crab below) was tagged two years ago across the Delaware Bay at Kimble's Beach in New Jersey. I love that the U.S. Fish and Wildlife Service tells you about the crabs that you find!
As horseshoe crabs age, their growth rate slows and they shed their shell less frequently. This allows hitchhikers to grow on their shells ranging from mollusks to snails to crustaceans. It was so interesting seeing the different dioramas on the backs of some of the crabs. Some must have been so OLD!!
We went back to Slaughter Beach in the evening at high tide and sure enough, the shoreline was covered with the larger females trying to get up the beach to lay their eggs and smaller males attached to their back. Not long after sunset, the moonrise came as a pleasant surprise. It looked absolutely massive as it rose over the horizon. The moonrise in itself made the evening beach trip worthwhile. The horseshoe crabs seemed oblivious.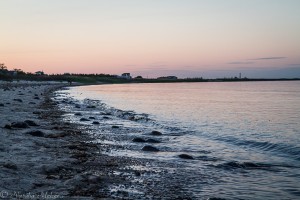 DuPont Nature Center
The DuPont Nature Center is just a bit up the road from Slaughter Beach and is well worth the stop at any time of year if you are interested in shorebirds or horseshoe crabs. The center has a small, one room exhibit but the real value is in chatting with both the staff and other visitors. While there we were able to identify all of the birds we had seen so far and also chat about the likelihood of seeing the infamous red knots. These small birds have one of the longest annual migrations, traveling 9,000 miles from Tierra del Fuego at the southern tip of South America to the Arctic in the spring. They stop in the Delaware and New Jersey area to gorge themselves on horseshoe crab eggs before continuing their journey north. We heard that a flock of thousands of red knots had been seen in southern New Jersey but they hadn't made their way to Delaware yet. We did see this male red winged blackbird which we were excited about, but then realized that they are absolutely everywhere so it wasn't such a unique sighting.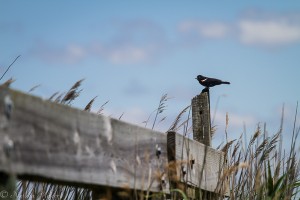 Milford Neck Wildlife Area
The Milford Neck Wildlife Area is just a bit north of the DuPont Nature Center. We drove along Big Stone Beach Road to, you guessed it, Big Stone Beach. It was a pretty drive in the late afternoon light but we didn't see as many birds as we had earlier in the day. We did see a flock of snowy egrets but they were too far away to photograph. We also caught this red winged blackbird perched on the tall grasses.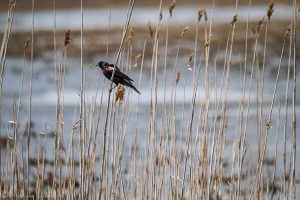 Ted Harvey Conservation Area
Continuing our trek north along the Delaware shoreline, we spent the morning hours at the Ted Harvey Conservation Area and went straight to the beach for a nice stroll. It was littered with upside down horseshoe crabs with their tails pointing vertically in the air. This time we went up to one of the crabs and nudged it with our foot. It was still alive! The tide was receding so they must have been freshly deposited on the beach. We felt bad for them so we started to flip the horseshoe crabs over. Most made a beeline (or a turtle line) for the water but some just started digging into the sand. Guess they must have been females wanting to lay their eggs. The beach was expansive. After a half hour of flipping crabs, there were still so many to rescue! We couldn't do it all, so we turned back.  The beach we had cleared was completely emptied of horseshoe crabs. Two young women passed us with a square-shape of white tubing. I expect they were doing some kind of survey on how many horseshoe crabs are in a square meter. I guess we messed up their data! They should have got to the beach earlier.
Bombay Hook National Wildlife Refuge
Our furthest point north was Bombay Hook National Wildlife Refuge. It is considered Delaware's best-known birding site and was established in 1937.  At 16,251 acres, it is one of the largest tidal salt marshes in the mid-Atlantic. There is a very convenient loop road in the most central part of the refuge that covers different habitats. We did see many birds including egrets, herons, cormorants, and geese. We also saw a well-camouflaged turtle and inconspicuous frog. We took a short walk down Parson Point Trail in hopes of getting close to some of the birds that were in the Shearness Pool. As luck would have it, there was no destination point. The trail just faded away in a mass of cattails and mud.
Little Creek Wildlife Area
Late in the afternoon as we headed back to our B&B, we made one last stop in the Little Creek Wildlife Area. It was low tide so we figured it was our last chance to see the shorebirds scouring the flats. Sure enough we did see a decent size flock of sanderlings near some posts from an old dock. It made for a picturesque setting.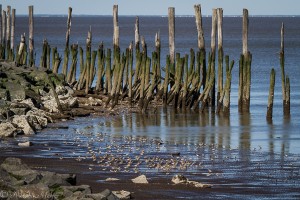 All told, it was a great weekend and I thoroughly enjoyed revisiting it here. I definitely want to go back, any time of year. It would be wonderful to see the famed red knots so perhaps another Memorial Day weekend, but there are different birds in the area to see all year round.