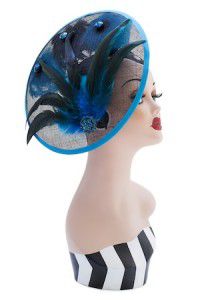 I just finished my contribution to the silent art auction for Spark! A Creative Fundraiser for FIGMENT DC. This cocktail hat is just one of many items that DC artists are contributing to help bring this participatory arts festival back to DC this fall. I'm really excited to participate both in the fundraiser and FIGMENT. I'm already thinking about what kind of participatory art project I will bring this fall!
Join us next Thursday, April 18th at Zeba in Columbia Heights for Spark! to help bring this arts festival to life. The silent art auction is just one of many fun things going on. There will also be a raffle, sock puppet speed dating, and live music. Wear a funky hat to this funky event!
And mark your calendar now for FIGMENT DC, Sept 28-29, 2013 at Anacostia Park!