The destination was Louisville, KY. My good friend Christie and I were headed to the U.S. mecca of hats, the Kentucky Derby. I had been thinking about it for months, buying new dresses (which I hadn't done in years) and pairing them with my own fancy hats so I would be bedecked all week. I had heard that everyone wears lots of color in Louisville so I was excited to bring more sunshine into my wardrobe!
We arrived Saturday morning (one week before Derby), got the keys to our home for the week (thanks for the connection Rachel!), and headed to Les Filles Louisville. This boutique in the SoFo district (South Fourth Street) is home to couture hats by Jenny Pfanenstiel of Formé Millinery. We had offered to help Jenny in any way she needed in the week leading up to Derby. Things were pretty quiet on Saturday morning so the first order of business was meeting all the neighbors! All the shops in SoFo had such great stuff! They were all independently owned and most featured handcrafted goods. This ended up being a recurring theme in Louisville. Entire neighborhoods full of small businesses, and no chain stores. It was amazing!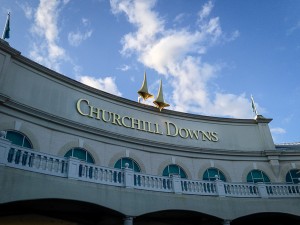 Sunday morning we headed to Churchill Downs for a Formé Millinery trunk show at the Kentucky Derby Museum. My first trip to Churchill Downs!! We helped Jenny with setup, helped customers, and generally had a good time! As an extra added bonus, there were a bunch of tastings happening. We got to try the infamous Derby Pie, a great pineapple chutney which I brought home, chocolate bourbon balls which I also brought home, and more. It was my first exposure to bourbon in Louisville, with more to come!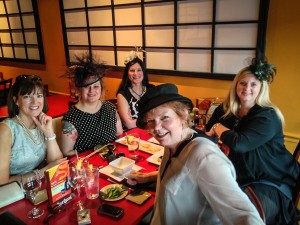 On Tuesday evening we had a millinery get together in the Highlands on Bardstown Road. Jan of aMuse Artisanal Finery and Diane of Hats to Di For were also in town for the Derby! Our group represented the cities of DC, Chicago, Atlanta, and Wilmington, North Carolina! It was really fantastic seeing Jan and Jenny, my primary millinery instructors, and meeting Diane for the first time. So strange and exciting for us all to meet up in Louisville, KY! After a great meal and visit, we headed down the street and I got to try Kentucky bourbon ale, which is ale aged in bourbon barrels. I highly recommend it!
On Wednesday evening we were off to the Farmington Historic Plantation for the Pimento Cheese Social. This event took the cake as a stunning location with impeccably dressed people. Completed in 1816, Farmington was the center of a 550 acre hemp plantation with a rich history. The carriage house was the first to catch my attention. Centered with the walkway leading from the main house, my eye was immediately drawn to it. The spaced sideboards added to its character and uniqueness. But as I rounded the bend, the biggest draw for me came to sight, the Bulleit Bourbon Trailer. I had seen pictures of this cocktail bar on wheels and was so excited to see it firsthand! I happily sipped on my custom crafted Old Fashioned made on the spot! There were also vendors scattered about the property and hats were an absolute must. Jan and Diana were there with their hats, along with Tonya of Tonya Gross Millinery. There was food to be had as well, and true to the name, all options had pimento cheese incorporated in them, from the BBQ to the desserts!
Friday was the big day! We were off to Churchill Downs for the Kentucky Oaks races! Oaks is the second-to-last race of the day for three-year-old thoroughbred fillies. The winner gets a large garland of lilies, which explains the color for the day–pink! The weather was great and we got to Churchill Downs easily. No traffic congestion at all! Once we got there, we promptly got a mint julep. "If you go to Derby, you must have a mint julep." We were told, so we did. I enjoyed it but wished that there was less ice! The whole cup was crushed ice. Oh well.. We went to our seats which were clubhouse seats that were upgraded to being under cover. Sweet! We got a great rundown of the races by the folks who were also seated in our box. At this point it was time for the fruity vodka-based drink called the lily. Both the lily and mint julep came in commemorative glass cups too. A few drinks down and one horse race in, I was ready to bet! True to form, I had beginner's luck on that first race and won $155! So of course I bet on the rest of the races that day too. I won some, I lost some, but I walked away with an extra $100 in my pocket at the end of the day!
Now, you would probably think that Saturday was actually the big day, right!? That was Derby day after all! But we woke to rain and it continued all day long. It truly put a damper on our festivities. We thought that our seats for Derby were in the uncovered clubhouse section so we spent a good chunk of our morning looking for rain boots and ponchos. If we were going to sit in the rain for many hours, we wanted to be comfortable! After securing these important items we headed to Churchill Downs. Now, if you know a little about millinery, you might know that rain and hats simply do not mix. You make a hat by working with your material and water/steam. So you can imagine that rain can undo the exact process used to make a hat! Many people brought clear plastic to put over their hat so they can still wear their hat and keep it dry. We didn't have such plastic and a black garbage bag didn't seem like a good option, so we decided to just focus on the races and leave the hats in the car (so sad…). And that made our seating assignment that much more bitter sweet. We were also upgraded for Derby (hooray!), but we didn't realize until we got there that our seats were actually under cover (hooray!). If only we had known ahead of time, we would have brought our hats (boo!) and arrived at the races earlier! Lesson learned. Despite the rain, the clubhouse was packed and the betting lines were so long that I couldn't be bothered to stand in them. I could just walk straight up to the betting windows the day before! But the energy and excitement were still high and the horses were equally amazing to watch.
But what about the hats!? Yes, I was also on a scouting mission to find out what exactly do people wear (or not wear) to Oaks and Derby!? Well, the hats truly ran the full gamut, from fascinators to big brim hats! I would estimate that most women (say 90%) wore a hat of some kind and many men wore hats too. There were a lot of store bought hats but there were couture hats mixed in. The majority were big brim hats as I expected, but a fascinator would not be out of place at all. This is just judging from the clubhouse section which is an upper-middle tier of ticket (in increasing fanciness of tickets: infield, grandstand, clubhouse, skye terrace, millionaire's row). I'm willing to bet that most of the hats in the nicer sections were couture hats, but we weren't able to go to those areas!
I'm so very glad that I got to experience the Kentucky Derby. It was an absolute blast. But I am even happier that I went to the Kentucky Oaks as I got to experience the races in good weather and with fewer people!